Book Now For the Battle at Bristol Call 423-571-3782 
When We Say Trackside … We Mean It!
August 2015 
Campgrounds around BMS report better year than recent ones
BY KAYLAN BRICKEY | BRISTOL HERALD COURIER | Posted: Sunday, August 23, 2015 11:26 pm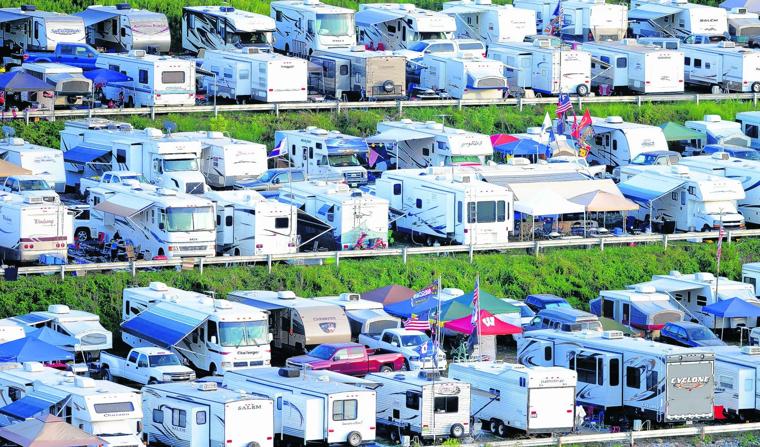 Race Week Campgrounds
Campgrounds around Bristol Motor Speedway during race week.
BRISTOL, Tenn. — "We've had more campers and more cars than we've had in the past two years," said Stan Lady, owner of Lady Equip Race Camping & Parking near Bristol Motor Speedway.
With 18 camping areas near the speedway, race fans have ample opportunity to pop a tent or pull in their camper for the week of the race, but this week faired differently than the races in the past few years with campgrounds filling up quickly.
"I think racing is really coming back. I can tell a big change in it. I saw more campers this time," said Lady.
With Lady Equip's grounds at a capacity of 75 campers, the area filled up quickly, according to Lady. Even his 25 rental campers were rented out in a matter of no time.
He attributes his successful week of renting to the accommodations that he offers, which include camper rentals, water, electricity, on-site security, free Wi-Fi and concession and vendor space site rentals.
Lady said with a smile, "This campground is the place to be."
While trash and litter seem to be a problem across the track, Lady said his area is kept clean by his renters each year.
"They always pick up their trash and put it in the bins," said Lady.
Since Lady Equip's opening 10 years ago, two faithful renters have been Mark and Linda Ellis from Wellington, Nevada. The couple retired in 1996 and has been traveling across the country to races ever since, with Bristol being one of their favorites.
"We love it here. There is always a family atmosphere in this campground that we enjoy coming back to each year," said Linda Ellis.
Both Mark and Linda are already planning their return to Bristol for next year's race.
Earhart's Campground has been in business since the track's opening in 1961, said owner Aaron Earhart. With more than 150 acres of campground, Earhart said he has plenty of room to spare over the course of the week. Earhart said he had so many campers come through this week that he lost count of how many spaces he had rented out.
"I enjoy running this campground because of all the people you meet and all the varieties of these people that you meet," said Earhart.
Gentry's Camping & Parking offers a view to the NHRA track that other campgrounds do not offer, said owner Danny Gentry. The campground is to the south of the speedway and is open 24 hours a day during race week. Gentry has been running the grounds for more than 20 years.
Gentry had a different story regarding amounts of people in attendance as opposed to Lady.
"I haven't filled up in years. It was about the same as last year," he said.
The grounds have around 15 acres of land to camp and park on and Gentry said, "There's always room for one more." His max capacity is around 300 though.
Gentry said most of his patrons left this morning with a few planning to stay a little later in the week due to long distances to drive.
A group of friends from Kingsport, Tennessee, Charlotte, North Carolina, and Indian Trail, North Carolina, get together once a year at the August race at Bristol and camp together at Gentry's. The group of five friends has been camping since Friday afternoon and has been camping together for more than seven years.
"We come back year after year because it's Bristol baby, "said Stephanie Anthony of Charlotte, North Carolina. "It's the best track."
"I look forward to it every year," said Randy Adams from Indian Trail, North Carolina.
Dates for the 2016 races at Bristol Motor Speedway have not been confirmed by NASCAR yet, but all three campground owners plan to be open and ready for business come August.